Welcome to birthPrep, the doula created Pregnancy and Birth Education course that takes you through everything from the final stages of pregnancy right through to postpartum recovery.
We understand that there is an overwhelming amount of information out there about pregnancy, labour and childbirth, so we wanted to create a course that goes through all of your options in an easy-to-understand way so that you and your partner can map out what feels best for you.
As you work through the videos and PDF manual, if you ever have a question or need more information about a certain topic, please know that we are here to support you. Sorting out all of this information and making decisions for your birth can be overwhelming and difficult; you don't have to do it alone. We are here!
In birthPrep, you will learn:
What to Expect During the Final Stages of Pregnancy
Signs of Labour and the various Stages of Labour
Comfort Measures for Labour and Birth
Labour Positions and Why They Matter
Your Options During Birth
Standard Hospital Procedures
Interventions and Why They May Happen
Emergencies
The 4th Stage of Labour
Standard Newborn Procedures
The First 24 Hours
Transitioning at Home
Postpartum Recovery
Be gentle and kind with yourself. No two pregnancies are the same, and no two families are the same. We encourage you to make the decisions that work best for you in this moment, knowing that it is perfectly ok for those decisions to change later on.
Sit back and enjoy! This course was created from a love of supporting and empowering women and their families throughout pregnancy, birth and postpartum.
Thank you for joining us for birthPrep.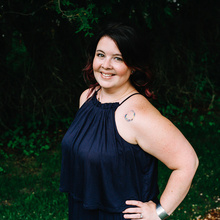 Owner, Birth and Postpartum Doula | Certified Meditation Instructor | Doula Trainer
Shannon Moyer-Szemenyei
Owner, Birth and Postpartum Doula | Certified Meditation Instructor | Doula TrainerShannon  began Sweet Stella's in 2010 following the birth of her first babe,  Owen, to help her navigate postpartum depression. She was fresh off a  very bad birth experience, complicated breastfeeding and was faced with  PPD and anxiety. Sweet Stella's became her safe place, and one that has  grown and evolved over the past several years. In January 2015, Shannon  became a fully certified professional doula through Doula Alliance. She  is located on the west side of London, Ontario.Areas of Specialty:Doula Training and MentorshipHypnobirth and MeditationBirth Trauma and CrisisPostpartum Mood DisordersMiscarriage and Infant LossBirth and Postpartum SupportI  firmly believe that my role as your doula is to support the decisions  that you are making for your family, and to never impress my own  personal opinion on you. Being a parent can be hard; I want to make sure  you feel supported, empowered and validated in your choices. When we  work together, you will receive my support, knowledge and consistent  check-ins. You are not alone in your journey; I am here to help guide  you along your way.Shannon is the mom of two boys and one  babe who miscarried in 2013, holds her Bachelor of Arts in Fine Art and  History from Wilfrid Laurier University and has served dozens of  families since becoming a doula in August 2014. She has attended both  hospital and home births, has experience with birth trauma and  miscarriage, is trained in hypnobirth with The Calm Birth School, is a  big supporter of self care for moms, and has recently developed the  Certified Birth and Postpartum Doula Training program for Sweet  Stella's. Shannon has also completed the Certified Meditation Instructor  program through the University of Holistic Theology and is thriving as a  meditation instructor, leading classes both in person and online.  Recently, she finished up the Cosmic Kids Yoga Crash Course and is  teaching Kids Yoga and Meditation at North Yoga & Wellness.When she's not assisting at a birth or leading her team, Shannon writes for Fit Pregnancy and Thyme Maternity,  and enjoys the mental release and clarity of running and her own  meditation practice, time with her best girls and a nice glass of  prosecco. Shannon is also an active member on the House Committee at the  London Hunt and Country Club, and the School Council at Byron Northview  Public School.
1

Introduction to birthPrep

2

Week 1: Final Stages of Pregnancy, Signs and Stages of Labour

Final Stages of Pregnancy

Signs and Stages of Labour

3

Week 2: Comfort Measures during Labour, Labour Positions and Birth Options

Comfort Measures During Labour

Labour Positions and Birth Options

Birth Options Planning Sheet

Positions for Labour and Birth

4

Week 3: Hospital Procedures, Interventions and Emergencies

Hospital Procedures, Interventions and Emergency Situations During Labour and Birth

5

Week 4: The 4th Stage of Labour, Newborn Procedures and the First 24 Hours

The 4th Stage of Labour, Delivery of the Placenta

Newborn Procedures and The First 24Hours

6

Week 5: Home Transitions, and Postpartum Recovery

Transitioning to Life with Baby, What to Expect during Postpartum Recovery
$65.00

$65.00

Practices for a Calm Birth: A Doula's Guide to Hypnobirthing

Buy Now