Calm Birth and Hypnobirthing is a great way to focus on your body and your baby throughout childbirth, acknowledging the waves and surges that your body feels and that with each breath, you are one step closer to meeting your baby. Learning these techniques and practicing them daily in your final trimester will guide you to having your most positive birth experience possible!
In this course, you will prepare for the birth of your baby in a very mindful way using various hypnobirthing techniques.
You will learn:
What is a Calm Birth
Why the Language of Birth Impacts Our Birth Process
How to Harness Positive Energy for an Empowered Birth
Various Breathing Techniques for Pregnancy and Labour
Meditation for Pregnancy and Birth
Visualization Techniques
Birth Visions and Planning Your Birth
Your body was made for this and your birth will be an incredible experience that you will never forget. Harness and stand in your power. You can do this!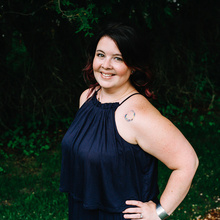 Owner, Birth and Postpartum Doula | Certified Meditation Instructor | Doula Trainer
Shannon Moyer-Szemenyei
Owner, Birth and Postpartum Doula | Certified Meditation Instructor | Doula TrainerShannon  began Sweet Stella's in 2010 following the birth of her first babe,  Owen, to help her navigate postpartum depression. She was fresh off a  very bad birth experience, complicated breastfeeding and was faced with  PPD and anxiety. Sweet Stella's became her safe place, and one that has  grown and evolved over the past several years. In January 2015, Shannon  became a fully certified professional doula through Doula Alliance. She  is located on the west side of London, Ontario.Areas of Specialty:Doula Training and MentorshipHypnobirth and MeditationBirth Trauma and CrisisPostpartum Mood DisordersMiscarriage and Infant LossBirth and Postpartum SupportI  firmly believe that my role as your doula is to support the decisions  that you are making for your family, and to never impress my own  personal opinion on you. Being a parent can be hard; I want to make sure  you feel supported, empowered and validated in your choices. When we  work together, you will receive my support, knowledge and consistent  check-ins. You are not alone in your journey; I am here to help guide  you along your way.Shannon is the mom of two boys and one  babe who miscarried in 2013, holds her Bachelor of Arts in Fine Art and  History from Wilfrid Laurier University and has served dozens of  families since becoming a doula in August 2014. She has attended both  hospital and home births, has experience with birth trauma and  miscarriage, is trained in hypnobirth with The Calm Birth School, is a  big supporter of self care for moms, and has recently developed the  Certified Birth and Postpartum Doula Training program for Sweet  Stella's. Shannon has also completed the Certified Meditation Instructor  program through the University of Holistic Theology and is thriving as a  meditation instructor, leading classes both in person and online.  Recently, she finished up the Cosmic Kids Yoga Crash Course and is  teaching Kids Yoga and Meditation at North Yoga & Wellness.When she's not assisting at a birth or leading her team, Shannon writes for Fit Pregnancy and Thyme Maternity,  and enjoys the mental release and clarity of running and her own  meditation practice, time with her best girls and a nice glass of  prosecco. Shannon is also an active member on the House Committee at the  London Hunt and Country Club, and the School Council at Byron Northview  Public School.
1

What is a Calm Birth and the Language of Birth

Week 1 Practices of a Calm Birth

2

Harnessing Positive Energy

Positive Energy Techniques for Birth

Week 2 Practices of a Calm Birth

3

Breath Techniques for Birth

Breath Awareness Techniques

Week 3 Practices of a Calm Birth

4

Meditation for Pregnancy and Birth

Meditation Techniques for Pregnancy and Birth

Week 4 Practices of a Calm Birth

5

Birth Wishes and Visions for Birth

Mapping Out Your Birth Plan

Week 5 Practices of a Calm Birth

6

Birth Wishes Planning Sheet

Meditation for Labour and Birth